Encouraging lively and engaging conversations about our water in a casual setting. Whether you are a scientist or not, this is a fun and free opportunity to learn from experts and add your own perspective to the conversation.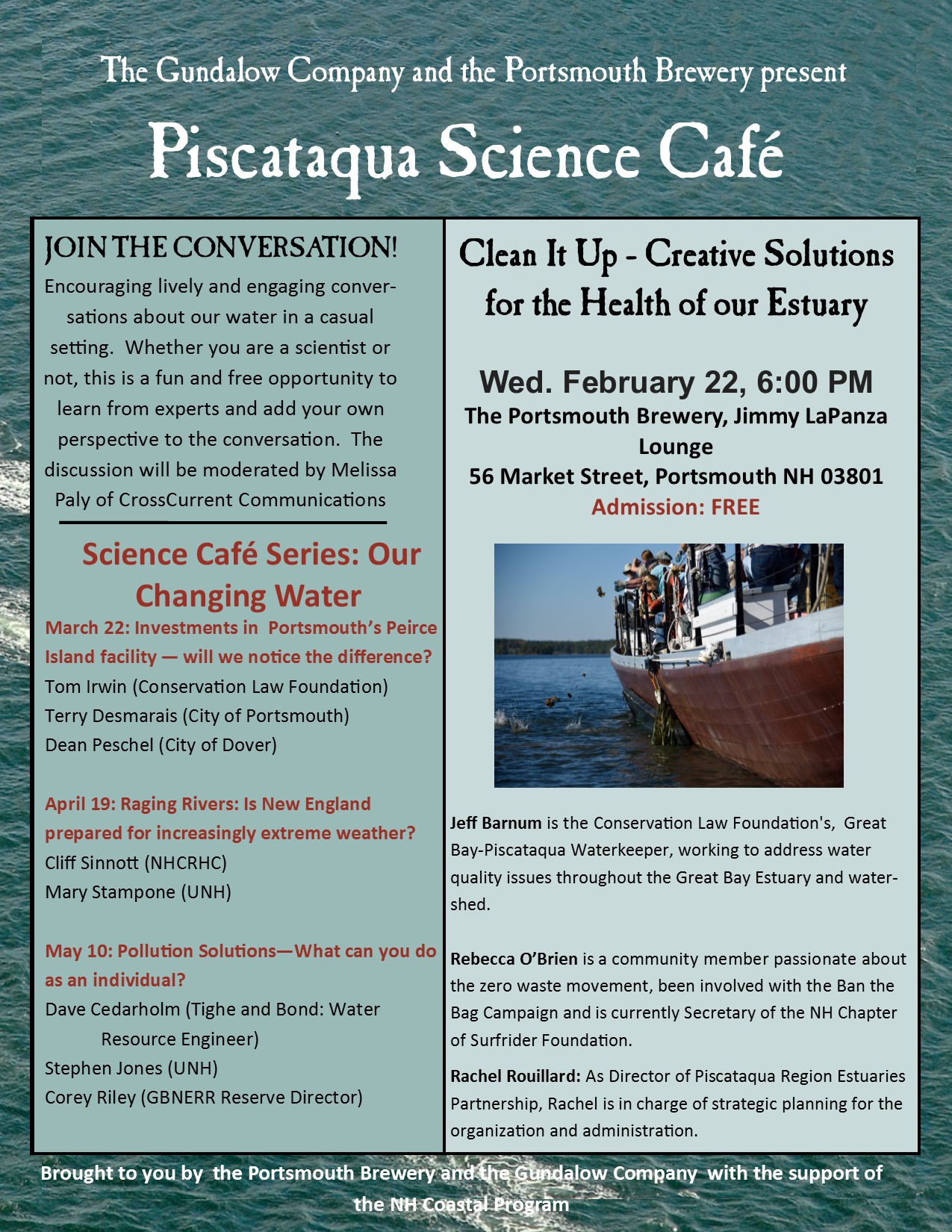 Science on Tap at Portsmouth Brewery February 22 –
Creative solutions to water pollution in the Piscataqua Estuary
Portsmouth, NH – If the packed crowd at the Portsmouth Brewery's first Science Café was any indication, science is hot in the Seacoast. Co-hosted by the Gundalow Company and Portsmouth Brewery, the topic on tap for the February 22 Science Cafe is Clean It Up – creative solutions to water quality in the Piscataqua Estuary. The discussion will be led by Jeff Barnum, CLF's Great Bay-Piscataqua Water Keeper; Rebecca O'Brien with the NH Chapter of Surfrider Foundation; and Rachel Rouillard, Director of the Piscataqua Region Estuaries Project. The event will be moderated by Melissa Paly, Principal at CrossCurrent Communications. Doors open at 5:30 for socializing, the program starts at 6 pm. Admission is free.
"We were thrilled by the turnout for the January Science Café and hope we've tapped into people's interest in learning in a fun, social way" says Molly Bolster, Executive Director of the Gundalow Company, a non-profit organization dedicated to protecting the maritime heritage and water quality of the Piscataqua Region. "We're excited to hear about innovative programs underway that are improving the health of the rivers and bays that connect all our Seacoast communities".
"What a great way to spend an evening" says Portsmouth Brewery General Manager, Brennen Rumble. "Meet new people, enjoy a local beer, learn about things we can all do to make our beaches, rivers and bays healthier – these are the places that make our region such a special place to live."
Other upcoming Science Cafés include
Wednesday March 22, 6 pm – Investments in wastewater treatment – what will it mean for water quality in the Piscataqua Region?  Discussion led by Tom Irwin (NH Director, Conservation Law Foundation), Terry Desmarais (Portsmouth City Engineer), Dean Peschel (Dover Environmental Manager)
Wednesday April 19, 6 pm – Raging Rivers – Is New England prepared for increasingly extreme weather?  Discussion led by Mary Stampone (NH State Climatologist) and Cliff Sinnott (NH Coastal Risk and Hazards Commission), moderated by Sam Evans Brown (NHPR).
Wednesday May 10 – 6 pm – Pollution Solutions – What can you do as an individual?
Dave Cederholm (Wastewater Engineer at Tighe and Bond), and Stephen Jones (UNH/NH Sea Grant), Corey Riley (Great Bay National Estuary Research Reserve). moderated by Melissa Paly (CrossCurrent Communications).
All events take place at The Portsmouth Brewery, 56 Market Street, Portsmouth, in the Jimmy LaPanza Lounge. Doors open at 5:30pm for socializing, the program begins at 6 pm. Admission is free.