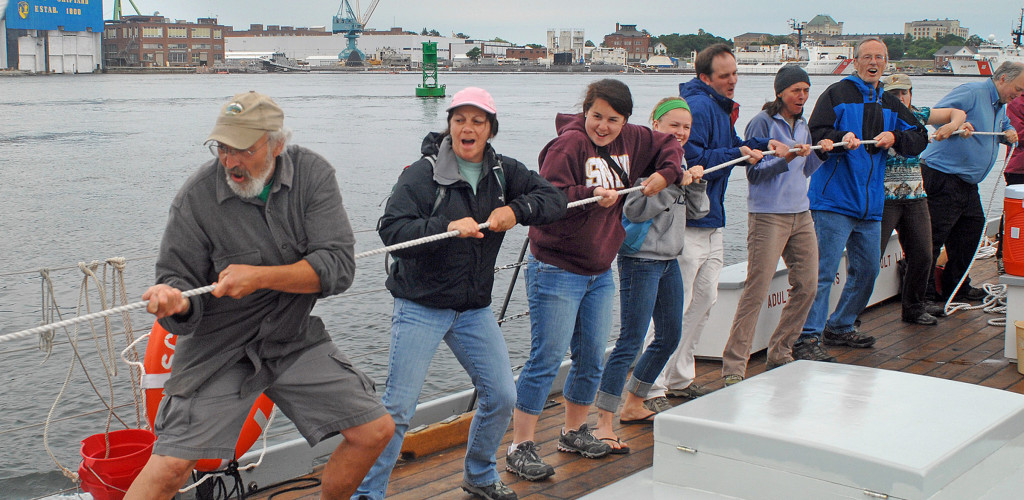 Our apprenticeship program is a specially designed opportunity for youth ages 15 years and older. During our sailing season, each apprentice becomes part of the ship's crew and participates in caring for the Gundalow, working with the Captain and crew while underway, and supporting our education programs through our camp and field trip programs.  While every apprentice will gain sailing, teaching and boat maintenance experience, we also offer apprentices the option to pursue their own interests within our organization. After acceptance into the apprentice program we will work to develop an individual plan. The apprentice program lasts a minimum of 5 days and costs $50. Each Gundalow apprentice receives a t-shirt.
Qualifications:
An interest in the waters and environment of the Piscataqua
A desire to sail and educate others
Ability to work with others, act as a role model for youth, and represent the Gundalow Company
Responsibilities: The apprentice reports to the Captain and Program Manager and works directly with the crew and volunteers. All apprentices will take part in shipboard operations and teaching or work with our summer camp programs. Apprentices are expected to represent the Gundalow Company and are expected to take part in any training sessions. Although not required, we encourage apprentices to become certified in first aid and CPR.
We have a limited number of apprentice spots each summer and accept applications on a rolling basis. Please contact education@gundalow.org with any questions.