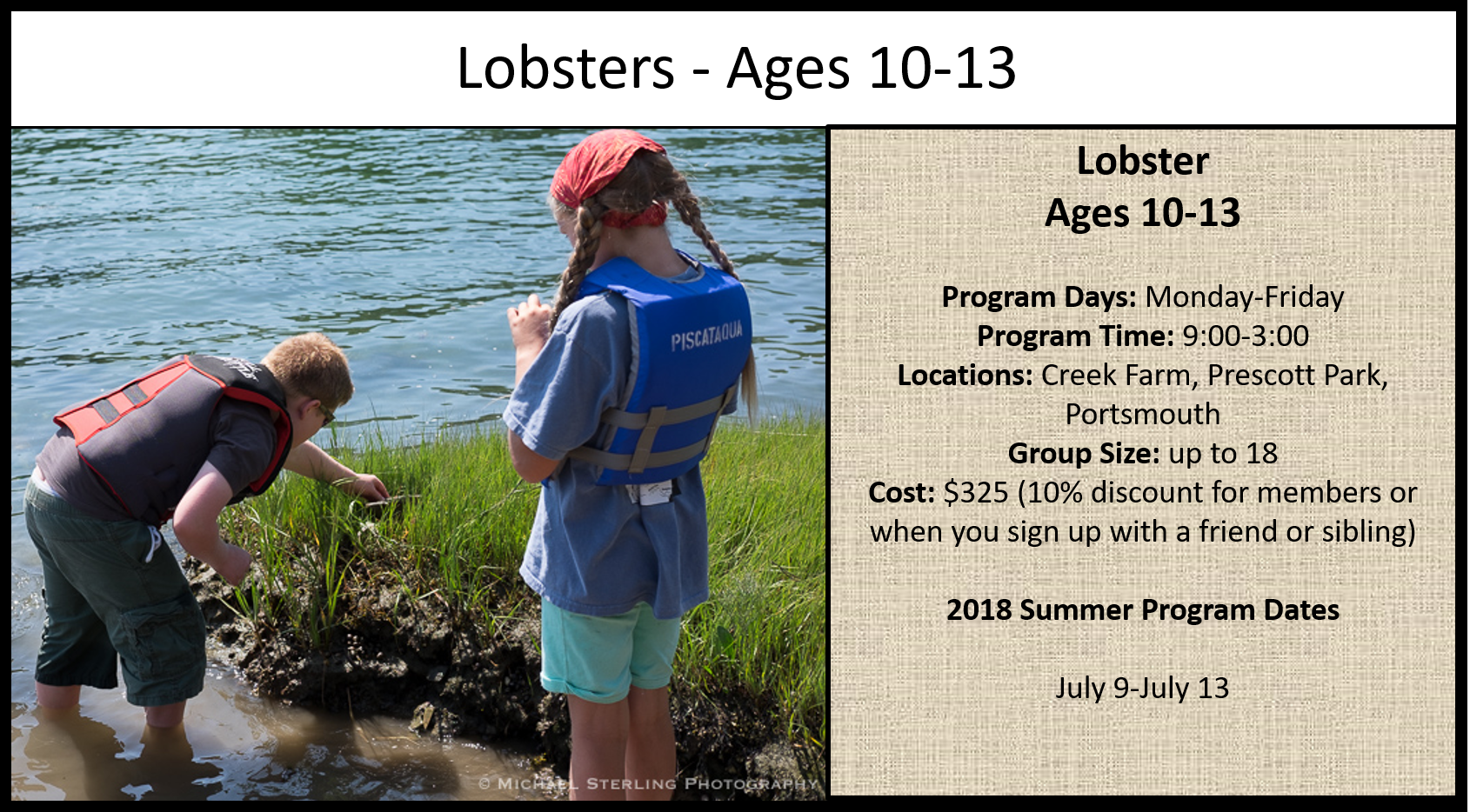 Our Lobsters are ready to delve into the maritime world through a variety of experiences both on and off the water.  Lobsters will take more responsibility on the Gundalow including navigation, learning about points of sail, as well as take a deeper look at the marine world through plankton tows, otter trawls and tidepooling.
A Typical River Rats Day
It is hard to describe a typical day at River Rats Camp.  On some days we will be setting sail on the Gundalow, while on others we'll be casting off on a rowing adventure or playing games and exploring the shoreline.  Our philosophy for all of our camps is to connect kids to nature and the water through experiences and play.  Each day starts with a plan and is adjusted to meet the groups interest and needs, but almost always includes games, arts, mud, and of course water. Through these nature experiences, students learn about the shoreline and our rivers and become the next stewards of our waters.  Our Lobsters will sail on the Gundalow 3-4 times and spend the remainder of the time on shore at Prescott Park or Creek Farm.
NOTE – During session 1 there will be 2 days where pick up and drop off will be at Adams Point in Durham
Sample Day
8:50-9:05 Arrival, check in and free time at Prescott Park in Portsmouth
9:05–9:15 Ice Breaker game
9:15 – Morning Jobs on the Gundalow – swab the decks, raise the pennant, and get the boat ready to sail
9:45 – Underway on the Gundalow – Kids will set the sail and help the boat head downriver towards the ocean and snack
10:00– Navigation Challenge – Students will use what they've learned about the Gundalow, the chart, compasses and the region to help navigate the boat to a certain destination.  Once arrived we'll celebrate with a knot tying and boat parts game
12:00 – Return to the dock – picnic in Prescott Park and free time
12:45 – Take a ride on our small motorboats to Sagamore Creek and Creek Farm
1:30 – Arrive at Creek Farm – Game – Sharks and Minnows
1:45 – Create your own floating boat.  Using large cardboard boxes and other materials student will create their own life size floating raft boats that can be used to float or 'sail' across the natural pool at Creek Farm.  Special attention will be given to design, creativity and 'floatability.'
2:50-3:05 Closing Circle and Pick Up