Our first sailing season was a wonderful success — thanks to our experienced  crew, lovely weather and enthusiastic passengers of all ages who joined us onboard the gundalow Piscataqua last year. Over 1200 students, scouts and campers were engaged in hands-on activities: setting the sail, steering the vessel, learning to navigate, towing for plankton, exploring human impact and analyzing water quality. Group sails are now being scheduled for the 2013 season. Bring your students or campers out on the water for a transforming experience! Read our flyer and contact us for more information and scheduling details.  education@gundalow.org or 603.433.9505.

Tickets are now available for the 2013 summer sailing season!
Click HERE to view upcoming sails or to search for sails by date. To view schedules and availability for a specific sail type, click on any of the following:
Sunset Sail ♦ Evening Concerts ♦ Contemporary Coastal Issues ♦ Mid-Day Sail ♦ Afternoon Sail ♦ Sunday Brunch ♦ Up-River Sail ♦ Saturday Morning Kids Free ♦ One-Hour Sail ♦ A Taste of Portsmouth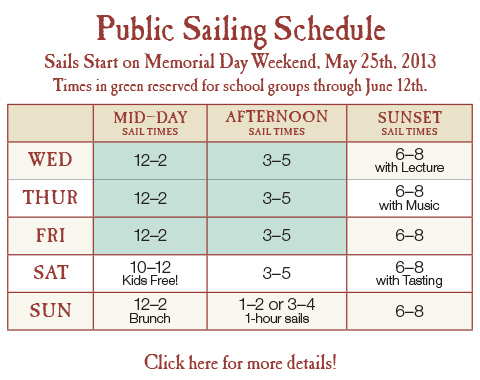 "Best Boat Ride" in New Hampshire!
The Gundalow Company has been recognized as a 2013 "Editors' Choice" winner in Yankee Magazine's Travel Guide to New England Come for a sail the summer on the "Best Boat Ride" in New Hampshire!  READ MORE HERE→